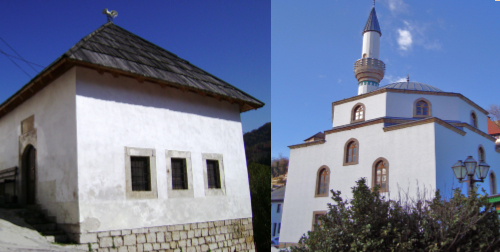 Mosques
Esma Sultana Mosque
Esma Sultana mosque is the most valuable building among mosques in Jajce from the Ottoman rule. The size and shape is what this mosque separates from other mosques in Jajce. It is located in the center of the town. To the complex of the mosque belonged also fountain, mekteb (Muslim religious school) and graveyard. According to the inscription above the portal,  the mosque was built in 1749/50 and its founder was the senior military officer Emir Mustafa. With regards Esma Sultana name, there is a tradition which tells that Esma, wife of the Bosnian governor Mehmed pasha Muhsinovic, built this mosque and two bridges over the river Vrbas.
When she fell ill, astrologists predicted that she would recover if she endowed three buildings. She used her jewellery to endow the bridges over the Vrbas and one of the most beautiful mosques in Jajce. The mosque was completely destroyed in 1993, with all other ancillary buildings. The mosque was reconstructed between 2003 and 2010, and the activities on the reconstruction of the ancillary buildings are still ongoing. The mosque is open for visitors, except during the prayer time and in the evening hours. Next to the mosque is the building of Islamic community with a library, where visitors can get more information, if needed.
Contact information:
Islamic community Jajce,
ul.Esme Sultanije 1,
tel: (0)30 657 089 , (0)30 657 483
mail: [email protected]This e-mail address is being protected from spambots. You need JavaScript enabled to view it. ,
www.mizjajce.com
Dizdar or Women's mosque
The Dizdar or Women's Mosque is located in the upper part of town known as Gornja Mahala. The mosque was built by Sulejman-bey Kulenovic in 1812/13.
The year of construction was recorded on a chronogram above the portal that survived until 1992. The Dizdar Mosque in Jajce belongs to the series of central single-space mosques without sofas and minaret,  with a masonry dome concealed by a tent-like hipped roof, which is not common in Bosnia and Herzegovina. The building was repaired during  2002.