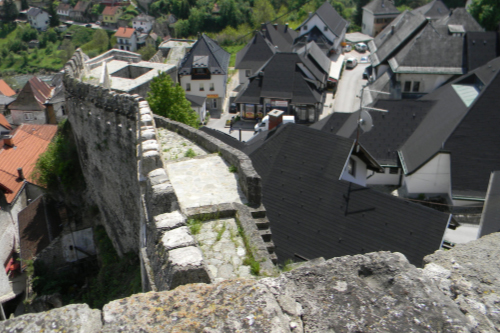 The Fortress
Visiting the Fortress in Jajce gives you a completely new perspective of seeing the town. The Fortress is located above the city, 470 metres above the sea level. The view which is provided from the walls of the Fortress towards Jajce and the old town, exudes the ambience of  the old bosnian houses. It is assumed that the Fortress was existing already in 13th Century, and it was constructed and repaired during several centuries.
Next to the entrance to Fortress  there is a portal with a Royal coat of arms of the family Kotromanic from the 15th Century. It is the only preserved Royal portal in Bosnia and Herzegovina. Thetre is a gunpowder maga- zine inside the Fortress, built in the late 18th and early 20th Century, and water reservoar from the time of Austro-Hungarian rule.
The Fortress is connected with rivers Pliva and Vrbas over the defence walls, Bear tower and Travnik gate on the Eastern side and with Big bastion, Tower on Dzikovac, Papaz tower, Banja Luka gate and Šamića bastion on the Western side. On the way to the Fortress there is a populary named Clock Tower, which was used as a primer entrance to the town during medieval period. It is assumed that a clock stood there during the Ottoman rule, therefore comes the name of the tower.
The Fortress is open for the visitors every day,during the entire year.
Summertime opening hours are from 9:00 a.m. to 7:00 p.m., while during the winter time, the monument is open from 9:00 a.m. to 4:00 p.m.