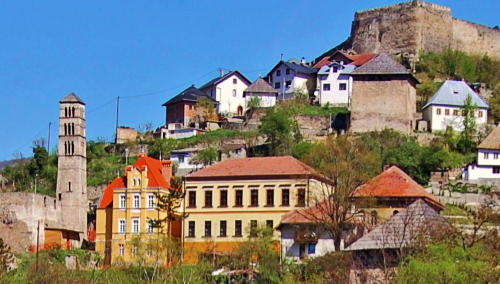 Houses in Jajce
On the slopes, below the fortress, and within the medieval walls, to the unique am- bience, contributes a large number of houses with steep roofs made of black wood, which are typical examples of Jajce residential architecture of the Ottoman period. These examples in Jajce can be seen by visiting the Omer bey's house and Krslak's old house.
Omer bey's house is located next to the Travnik gate.The interior is decorated with hand-carvings in wood, especially doors and ceiling. There in Omer bey's house it is placed an office of the Tourist community of the Canton of Middle Bosnia, where you can get information about the town and promotion material.
Krslak's house is located next to the Western wall on the way to the Fortress, and the interior is used by the City gallery.
Finance building, Old primary school, Sarenica
The complex of buildings from Austro-Hungarian period contribute also to the charm of Jajce. Finance building, Old primary school and Sarenica are placed in the street of St. Luke, on the way to St. Mary's Church  with St. Luke's Belltower in Jajce and Catacombs.
By the end of the 19th Century, finacial station was placed in the Finance building, while in the Old primary school was established as the first state primary school in Jajce.
Today, there is an Ethno museum and a collection of rocks, miner- als and fossils in that building. Sarenica or Sarač house, was built as a house of the family Sarac and place to sleep over. In the World War II, Telegraphic Agency of New Yugoslavia was established in this building, and the office of the sculptor Antun Augustincic was placed here as well.