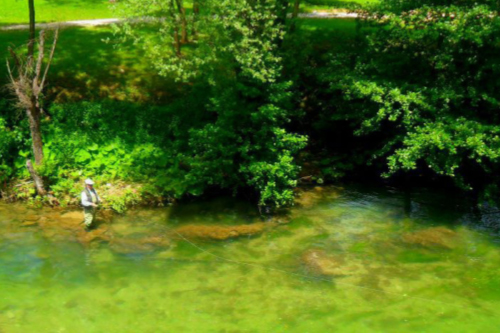 Fishing
River Pliva, Pliva lakes and river Vrbas provide ideal conditions for sport fishing. In these waters reside around 26 species of fish. Pliva is rich in trout, grayling, carp, tench, catfish and other species, while the Vrbas river in brook trout, sprout, grayling, sneep, barbel and chub.
The ambience of the river Pliva, specific color of water and the richness of fish, are a small paradise for sport fishermen whose specialty is fly-fishing. It is interesting that in different parts of the flow of river Pliva, appear different types of fish, and that the flow from the source to the mouth of the Great Lake, it is the habitat of native brook trout "zlatovcica". Fishing waters are managed by association "Zlatovcica" Jajce. The association gives a fishing license and cares for regular restocking water.
More information on www.zlatovcica.eu.